Is your home and office prepared for Hurricane Season?
Hurricane season is upon us in the United States. As of June 12th, Hurricane Bud is already the second named storm of the season. Bud is expected to make landfall near the Baja Peninsula of Mexico this coming Thursday through the weekend. Hurricane Aletta, the first named storm of 2018, grew to a category four storm and consisted of sustained winds in excess of 140 miles per hour. This is occurring little more than eight months after Hurricane Harvey and Hurricane Maria, category four and category five storms respectively, made landfall over Houston and Puerto Rico. Forcing many to go without power for weeks and months.
These Hurricanes should be a cautionary tale that if you live in an area that has a risk of hurricanes now is the time to plan for how you will deal with these storms when they come your way.  In most places, it is a matter of when and not if you are going to deal with a hurricane. Here are seven ways to prepare your home and small business for hurricane season.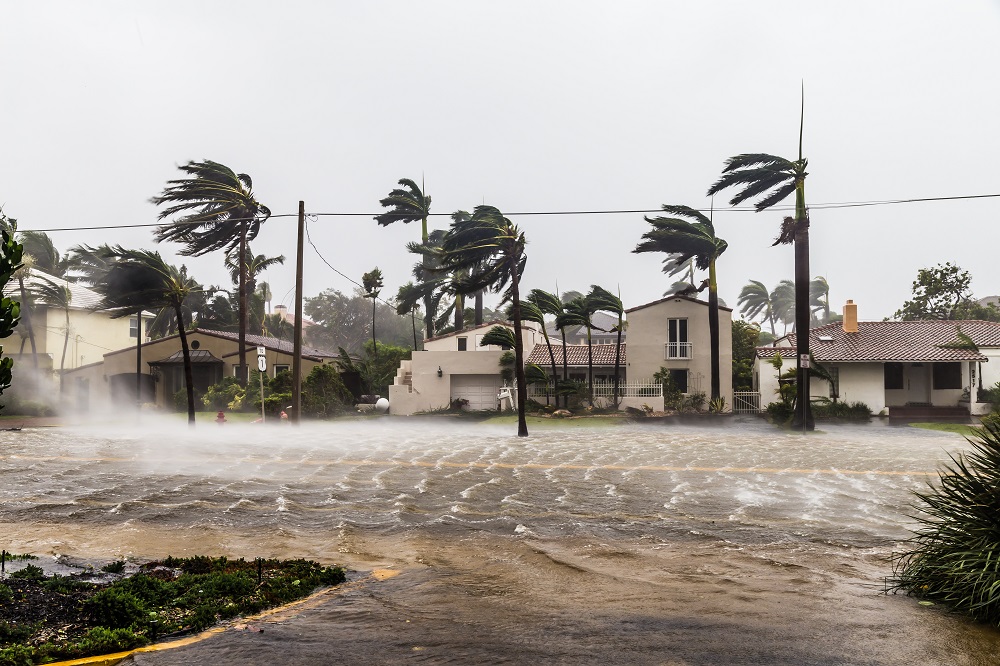 Create a communication plan
Communication is difficult in the technological age. It is even more difficult when a natural disaster occurs. For this reason, it is extremely important to have a plan in place for how your are going to get a message to the few people who are most important.  On a day to day basis, we may not realize how much we depend upon our mobile devices, but the second those devices are taken away we all realize how important they are to our ever connected world. Having a plan in place for when they do not work and practicing it from time to time will help your family and small business prepare for a hurricane or other natural disaster.
Restock your emergency preparedness kit
First and foremost, your house and your business should have an emergency preparedness kit. What it has in it may depend upon where you live and what special needs the people who need to use it may have. If someone in your family or at your business are diabetic, there should be some supplies related to these health issues. If you have a young child or an elderly member of your family, you need to prepare for their special needs. Regardless of the circumstances your business and family face, there should be a place where you have some supplies for when a hurricane occurs.
Check insurance coverage
Most Hurricane insurance policies have a time period before they kick in. Most are at least 30 days in length, meaning if you are purchasing coverage now you may be late for a hurricane occurring in late June or early July. If you already have coverage in place it is a good idea to dust off that policy and see what may or may not be covered. Partnering with an experienced independent insurance can help you determine what coverage you have and if there is additional coverage you may benefit from.
Consider flood insurance
In many cases flood insurance is necessary in addition to hurricane coverage. Each policy has limitations to what is and what is not covered. In most cases, flooding that occurs after a hurricane has occurred is not covered unless you have a separate flood insurance policy. Most small businesses can eliminate this gap in coverage by purchasing a business owner's package. In a state where natural disasters are common, this should be a standard part of most comprehensive packages.
Make copies of important documents
There are many documents that are extremely important after a natural disaster occurs. These documents may include passports, birth certificate, social security card, the title to your car or house, bank account records, copies of your insurance policies, and the phone numbers related to any of these documents.
Back up your electronics
If you own a small business, it is crucially important for you to back up all data that may be important. Depending upon the industry you operate in this may be a small amount of data or it may be an enormous amount. No matter how large or small, it is essential to have a place where this data is safe. Backing up your electronics at your home is equally important. There are more than likely numerous important bits of information saved on all of the devices in your house. Not to mention the many many pictures we share to all of our devices. Without a plan in place, these will all be lost after a natural disaster.
Review Your Supply Chain
If you have ever lived through a natural disaster like a hurricane you more than likely know that the world keeps on moving no matter how bad the situation is in your area. If you own or operate a small business that does business regionally or nationally, it is important to have a plan in place for how to keep the business churning throughout a natural disaster. Customers are still going to expect on time delivery of the goods and services you have contracted in advance. Thinking about these situations in advance can be the difference between a hurricane being a small slow down in business and a situation that your business never recovers from.