Business Interruption Insurance is the key when disaster strikes your business.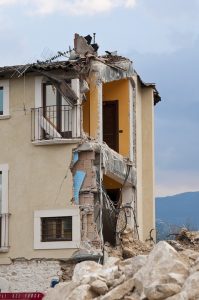 Having good commercial insurance is essential to the long term stability of your business.  It is a product that is necessary for you business, but a product you hope you never have to use. When there is a disaster that strikes your business, the quality of your coverage can mean the difference between a bump in the road and the end of your business.  One key policy to help your business whether the storm when a disaster strikes is business interruption insurance.
According to the Insurance Information Institute, "Business interruption insurance compensates you for lost income if your company has to vacate the premises due to disaster-related damage that is covered under your property insurance policy, such as a fire. Business interruption insurance covers the revenue you would have earned, based on your financial records, had the disaster not occurred. The policy also covers operating expenses, like electricity, that continue even though business activities have come to a temporary halt".
This policy is normally offered as part of a Business Owners' Package, but not always.  It is important to confirm with your agent if this is included in your package.  If it is not they will more than likely bring it to your attention as an add-on.  It is a policy to strongly consider for your business.  This business can help you pay necessary bills, retain key employees and may just be the difference between success and failure when a claim occurs.
In most states general liability and workers compensation insurance is required by law, but those are the bare minimum coverages any business should secure. Most businesses need several additional coverages to properly protect the organization.  If you own property or vehicles their is a need for commercial property and auto coverage.  If you own specialized equipment there may be a need for inland marine coverage.  The one frequently forgotten coverage is business interruption coverage.  Many small business owners fail to anticipate how they will pay their bills in the event a claim causes their business to be closed for a period of time.  When this occurs the bills keep coming and payroll has to be met.  If you are a cash strapped company, failing to secure this coverage may cause the ultimate failure of your business.