How technology is helping flood victims recover from Hurricane Harvey.
Hurricane Harvey has dumped the most water on Texas of any Hurricane in modern US History. According to Matthew Cappuci, a current student at both Harvard and MIT, 'If you took the Empire State Building, more than a hundred stories tall, you could fill that entire volume 33,000 times with the water that fell on Houston and the surrounding areas'.  This massive amount of water has and will take an enormous effort to recover from. Technology will play a tremendous role in the rebuilding efforts. Here are four ways technology is helping Hurricane Harvey Victims.
Communication Challenges for First-Responders.
During the first few days of relief efforts, in response to the Hurricane, First Responders were having to get creative in order to communicate with each other and victims needing help.  In the hours and days after the hurricane, many 911 call centers and radio centers were out of commission. The disrupted networks also left more than 250,000 people without phone, TV or internet access.  As a result of this disruption in telecommunications, the Federal Emergency Management Association (FEMA) set up more than two dozen mobile communication office vehicles throughout the damaged areas. These areas had satellite-connected trucks helping FEMA employees and first responders with voice, video and data networks.
Social media as a way for Hurricane Victims to communicate with police and first responders.
In the early stages of the relief efforts, many victims were finding it difficult to get through to 911.  Dajauh Zhane Henix was separated from her daughter during rescue efforts and posted a message to Facebook that was shared more than 32,000 times. With the help of search and rescue and the power of social media, Mrs. Henix was reunited with her daughter. This is just one of many examples of the power of social media to reach many people quickly in a moment of need. Unfortunately, this power can be used in negative ways when videos or pictures go viral with inaccurate information.
Facebook is even matching up to $1 Million in donations made through the site.
Text to Donate to Hurricane Harvey Relief efforts.
This is not such a new technology, but mobile devices now make it easier than ever to donate to relief efforts.
The Red Cross has usedtext messages asa way to donate inmany disaster relief efforts.  For Hurricane Harvey they are asking people to Text: "HARVEY" to "90999" to automatically donate $10.
If you would rather donate to a local charity, you can Text: HARVEY2017 to 91999 to support the Hurricane Harvey Relief Fund.
Drones are helping the insurance industry process claims.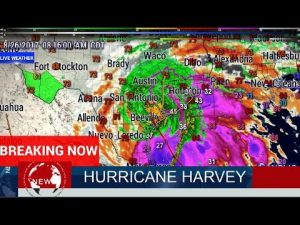 When disaster strikes, the speed at which insurance companies process claims can be slowed dramatically. This process is important because the more quickly this process gets done, the more quickly the victims can get back to everyday life. Drones are helping insurance carriers process claims at a much faster rate than in the past. This is because an insurance carrier can now use a drone to view the damage of an area several times as big as in the past in a matter of hours. In the past the carrier would have had to have someone physically inspect the property.  They may have had to wait several days if not weeks for flood waters to recede enough to get in to the impacted areas. Now this can be done with a drone over an area inspecting ten or more covered properties at one time.  This can all be done either from a remote location or even at a location near the disaster area. Drones can allow the carrier to have a visual representation of the impacted area in a matter of a few hours instead of it taking days if not weeks only five or ten years ago.