5 little known facts about insurance, every small business owner should know.
General Liability covers my employees if they are injured at work
This is false. General Liability Insurance covers your businesses liability to third parties injured by the actions of your business. This goes for both property damage and bodily injuries.  One thing a general liability policy does not cover is the injuries that occur to your employees.  For these injuries you need a separate workers compensation insurance policy.  Workers comp will cover your employees for medical care and some lost wages when they are hurt on the job and not able to work.
The only thing that determines your rate for insurance is your loss ratio.  
There are many things that go in to how a carrier determines what you pay in premium for coverage.  First is your classification code.  It is pretty easy to understand that an accounting firm is taking on a lot less risk compared to a roofing company.  The level of risk is going to be represented in the amount those businesses pay for premium.
Your personal auto insurance will cover your car when you are using it for business purposes.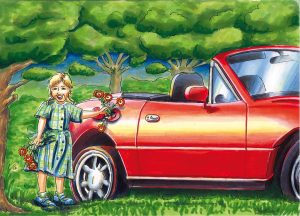 This statement is not true.  If you are using your car for business purposes, it is not completely covered under your personal insurance policy.  The personal insurance policy will pay to cover the damages to your car, but it will not cover your liability to third parties. That liability falls on the shoulders of the business.  For that reason, you will need to secure either a commercial auto policy or a hired and non owned auto policy.
You must pay your insurance premium in full up-front.
This is not true.  Most commercial policies require 25% or more of the premium in order to get coverage in place than you pay 9 monthly payments over the last 9 months of the policy period.  There are also options the insurance industry has developed to help cash strapped companies. This is the Pay as You Go option.  Pay as you go can get coverage in place for only a few hundred dollars and then you pay premium each month based upon the monthly payroll.  This is an excellent option for seasonal or cash straped businesses.
There is no need for Business Insurance if you work out of your home.
This is absolutely not correct.  The liability needs you face are different if you work from home, but there are still risks you need to cover.  If you drive to clients houses you need some form of commercial auto.  If you have specialized equipment you may need inland marine coverage and if you offer professional advice you more than likely need professional liability.  These are just a few coverages you may need for a home office and an experienced insurance professional can help you make sure your business is protected with just a short conversation.  It is important to be thorough and honest during these conversations.