Claims made General Liability (GL) Policies cover claims that arise from injury or damage occurring during the policy period and reported to the insurer during the policy period. Claims arising from events outside the policy period or claims reported to the insurer outside the policy period are not covered unless special coverage is purchased or arranged with the insurer. This is done by purchasing a tail for a specified extended reporting period.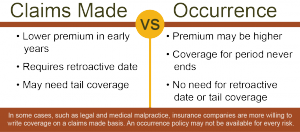 Generally once you have a claims made policy, its best to either keep going on with claims made policies. If you were to switch to an Occurrence Policy, this could leave a potential hole in covering claims if they were to arise. Most of the time a claims made policy will be less expensive at the beginning. If you have to purchase an extended reporting tail these can at times be just as expensive as the original policy themselves.
Here is a quick example of how they work both good and bad:
You own a Convenience Store and you have just finished up mopping the inside. A customer comes in and slips and falls. They get up and seem to be ok. You check on them and they tell you everything is fine so they leave and you think nothing else of it. Your claims made policy expires the next month and you switch to an occurrence policy. All of a sudden, 2 months later you hear from the person that slipped inside your store, and they are claiming a back strain due to the fall. They state that it has effected their work performance, life etc.
Since the claim has now been filed outside of the policy period and you have switched to an occurrence policy, you are now exposed to not having coverage for the claim. If you did not purchase extended reporting period or tail coverage, then, you will potentially not have coverage for the claim. If you decided to purchase the extended reporting period coverage, then you should be fine and the insurance carrier will cover the claim. It's always important to discuss what type of general liability coverage is best for your company with your agent, not only in the short term but the long term as well.