Painters or painting, staining and decorating contractors fill a great role within the construction industry. As the economy continues to recover the need for painters continues to grow. With the growth in this industry comes an increase in risk and a need for more insurance coverage. The risks in this industry are much different than if you run an auto repair shop or an HVAC company.
There are certain types of information you will need for a general liability and workers compensation quote. Here are 5 policies every painting contractor needs to secure in order to completely cover them and their employees.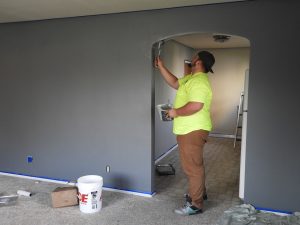 General Liability
General liability insurance is normally the first coverage any small business purchases. This is no different for a painting contractor. In most states this coverage is required by law to be in business. General Liability coverage will cover your liability to third parties for accidents that occur as a part of normal business operations. For painting contractors who work at remote locations, it is important to speak with your independent insurance agent about what exactly is and is not covered when you are operating on the premises of a third party. If you interact with a general contractor who has many contractors operating at one location it is important for you to make sure all of the other contractors have the proper insurance required for the work taking place.
Inland Marine Coverage
Inland marine coverage will cover any specialized equipment you or your employees use as part of your daily operations. This is an important coverage to secure, especially if you have expensive specialized equipment, because most basic policies will not cover this equipment when it is damaged. For instance if you have a van or a vehicle with a trailer carrying extra tools, when a wreck occurs your commercial insurance policy will cover your liability to the other person hurt in the accident and to fix your vehicle, but it will not pay to cover your specialized equipment. This is a coverage your agent can help you determine if you need it or not. Depending upon how much the equipment costs, you may be able to do without this coverage.
Commercial Property Insurance
Commercial property insurance is different from your personal home owners insurance policy. It is different primarily because it is sold one of two ways: Replacement cost or on an agreed upon value of the property. It may be tempting to go with an agreed upon value to save on premium, but this is almost always a mistake. This is because the agreed upon value is usually what the property is appraised at currently. This amount does not include the cost to tear down the dwelling and remove all the debris after a disaster occurs. This additional cost can be extensive.
Commercial Auto Insurance
Commercial auto insurance is also different from a personal auto policy. Commercial auto can be purchased for vehicles your business owns, but it can also be purchased for employees who drive their own vehicles or rented vehicles while on the job. This type of policy is called hired and non-owned auto coverage. Again, with this coverage it is important to take some additional time to speak with your agent about the daily operations of your business. If you are honest with them about what you do on a daily basis they can do their best to prevent occurrences from taking place where your business or your vehicles are not covered.
Workers' Compensation
Workers compensation insurance is the second coverage a business purchases because like general liability insurance it is required by law in most states. Workers compensation is like general liability, but it applies only to your employees and not to third parties. If your employees are injured at work as a part of what would be deemed normal business operations, workers compensation coverage will pay them for some of their lost wages (typically 60%) and medical expenses. Depending upon the state in which you operate in and the accident occurs, there are time limits on how long the employee can collect workers compensation benefits. Having adequate safety programs and a strong return to work program will help your business from experiencing excessive damage to your experience modification rating.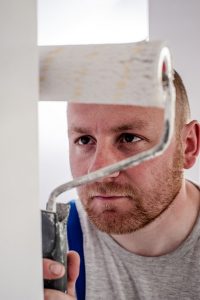 Recommended Insurance Programs for Painters
Minimum recommended coverage:
•   General Liability
•   Inland Marine Coverage
•   Property Insurance
•   Commercial Auto Insurance
•   Workers' Compensation
Other coverages to consider for Painters:
Business Personal Property, Employee Dishonesty, Contractors' Equipment (Inland Marine), Umbrella Liability, Commercial Auto Liability, Goods in Transit, Environmental Impairment Liability, Stop Gap Liability and Employment Practices Liability Insurance (EPLI).