Pest Control Companies Face Unique Risks
Pest control companies provide services to commercial and residential customers who have problems with insects, rodents and other nuisances on their property. The fumigator or exterminator determines the type of pest and the most effective method of extermination. These methods should always be the method that will cause the least amount of disruption to the customer, regardless if the customer is an individual or a business. Because these businesses are constantly interacting with customers off-premise and the nature of the chemicals they are using, risks in this industry are high.
In order to manage risks properly, pest control companies need to have thorough training procedures for all employees.  Those training programs should include safety programs to keep the employees and the clients safe at all times. In addition to adequate safety programs, pest control companies need to acquire adequate insurance coverage to protect the business from the unique risks each business faces. Here are six types of insurance coverage every pest control company should have.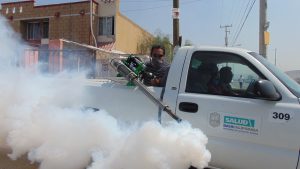 Minimum recommended coverage for a Pest Control Company:
General Liability Insurance
Commercial Property Coverage
Business Personal Property Insurance
Commercial Auto Coverage
Inland Marine Insurance
Workers Compensation Coverage
General Liability Insurance for Pest Control
General Liability risks arise for pest control companies when employees travel off-premises in order to applying chemicals. Customers should be given proper instructions on controls regarding anyone or anything that could be exposed to hazardous materials while the application is going on. This is especially important for clients who have children, pets, sick and elderly individuals. In some instances, temporary evacuation is required during application. This may be  followed by a waiting period and re-ventilation to replace the fumigant with fresh air.
Commercial Property Coverage
Commercial  property risks depend on the type of property you own and operate as well as the types of chemicals being stored on the property.  It also depends on the amount of these chemicals you keep on the property and whether or not those chemicals are flammable. Hazards increase if the contractor fails to store the chemicals properly in approved containers, cabinets and rooms, with accurate labeling and separation. Speaking long and honestly with your independent insurance agent is always the best way to properly protect your business. This conversation should include exactly what the employees of your business do on a daily basis, what is the condition of the property you operate, and exactly what chemicals you are storing on the property.
Business Personal Property Insurance
Business Personal Property Insurance provides coverage to small businesses for furniture, fixtures, merchandise, materials and all other personal property owned by you personally and used in your business. The best part about this coverage is that it is generally at replacement cost. Many business owners think this type of loss is covered by their commercial property insurance, but it is not. This coverage can and should be added to most BOP or CPP Packages if there is a need for this coverage.
Commercial Auto Coverage for Pest Control
Automobile exposure in the pest control industry is extremely high due to the amount of time employees spend in their vehicles travelling to clients locations. In addition, there is the fact that the employees are also transporting chemicals throughout their workday. Drivers in some states may need a hazardous materials ("hazmat") endorsement to transport some chemicals used. Risks increase if the insured lacks spill control procedures and equipment.
Inland Marine Insurance
Inland marine exposures in the pest control industry come primarily from the contractor's equipment and the transporting of that equipment, chemicals and supplies to the customers' premises. Equipment is not highly susceptible to damage, but it can be hazardous to both your employees and clients.  This equipment may include tarps, drills, measuring devices and other hand tools. The tarps and plastics used to enclose the areas to be fumigated may be bulky and require attention to folding and tying down. The chemical containers may be vulnerable to overturn or damage that causes leaking, which impacts the auto and premises liability exposures.
Workers Compensation Coverage
Workers compensation exposure can be high for the Pest Control industry. Common hazards include slips and falls during application; minor injuries while using hand tools; lifting injury and back injuries, hernia, sprain and strain. Employees can experience lung, eye, or skin irritations due to the chemicals. The impact of these chemicals can be immediate or long term.  In some Pest Control companies seasonal employees may make safety a challenge. Loss potential becomes severe if the contractor fails to train and supervise employees properly. This is especially important when it comes to the proper use of protective gear by the employees.
Business Liability Category: Pest Control Contractors
SIC Business Insurance Codes:
7342: Disinfecting and Pest Control Services
2879: Pesticides and Chemicals—Not Classified Elsewhere
NAICS Liability Classifications:
561710: Exterminating and Pest Control Services
325320: Pesticide and Agricultural Chemical Manufacturing
Business ISO General Liability:
43860: Fumigators
43470: Pest Control Services
Common Workers Compensation Class Codes:
9014: Janitorial Services by Contractors (Florida—Exterminators)
4828: Chemical Blending and Pest Control Fumigation
9031: California Code—Pest Control—All Operations
0046: Massachusetts Code—Pesticide Application