5 types of Insurance Coverage every Trim Carpenter should strongly consider
A Trim Carpenter typically performs only interior work such as cabinet installation and interior trim for construction projects. There are many other types of carpenters who perform exterior work only or both. Because of the differences in the nature of the work between these types of carpenters, the risks they face are also different. Interior carpentry normally consists of either rough or finish work. Rough work involves framing windows and doors, laying floor joists and subfloors, stairways and more. This type of carpentry can also include: hanging doors, installing baseboards, installing the molding around doors and windows, and making or installing cabinets and shelving. There are many other types of custom builds the carpenter might partake in. All of this type of work can lead to bodily injury claims for the carpenter or their employees. It can also lead to risk if the windows or doors are damaged during installation. With these different risks a trim carpenter faces, comes a need for many different types of insurance coverage.  Here are five types of insurance coverage every Trim Carpenter should strongly consider purchasing.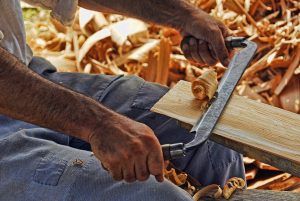 Recommended Insurance Programs for Carpenters
General Liability Insurance
Commercial Property Coverage
Inland Marine Insurance
Commercial Auto
Workers Compensation Insurance
Other coverages to consider for the various types of Carpentry:
Business Personal Property, Employee Dishonesty, Contractors' Equipment and Tool Floater (Inland Marine), Umbrella Liability Coverage, Business Income with Extra Expense, Builders Risk, Goods in Transit and Installation Floater.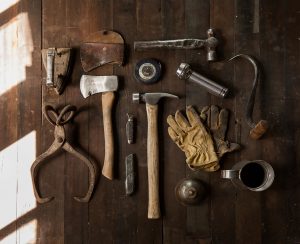 General Liability Insurance for a Carpenter
General liability exposures at a trim carpenters shop are normally somewhat limited. These limitations are due to the lack of public access to the carpenters property. There should be policies in place because risks like fires from woodworking and/or lumber storage can affect neighboring businesses or homes. Talking about all the different elements of your business with your experienced insurance agent can help you prevent severe or frequent claims.
Carpenters Commercial Property Coverage
Carpenters face commercial property exposures at their location, but those exposures are limited to the office area and storage of materials, equipment and vehicles. If the risks will be different depending upon if the business owns the building or rents.
Inland Marine Insurance for a Carpenter
Inland marine insurance coverage is designed to protect businesses that have specialized equipment or equipment that is frequently in transit. This equipment includes owned or rented tools.  The tools may include tables saws, scaffolding, building materials and materials being transported to and from the job-site. These tools and equipment are heavy but less likely to be damaged during transport. Transporting woodwork done at the carpenter's shop increases the exposure because these items are more susceptible to damage from shifting, improper loading or inadequate tie-down. Inland marine insurance coverage is needed for nearly all carpentry businesses.
Carpenters Commercial Auto Coverage
Auto liability exposures are limited, for the most part. This limited exposure is limited unless lumber and pre-made items are frequently transported by the carpenter. The hazards of transport include failure to secure the load properly and equipment failure. Paying attention to your employees age, training, experience and driving records can limit these risks. Also, the condition and maintenance of the vehicles are important considerations.  Those maintenance records should be documented in order for your insurance agent to use this record to negotiate better rates on insurance premium.  Companies who allow employees to drive their personal vehicles for business purposes should purchase a separate hired and non-owned auto policy.
Workers Compensation Insurance for a Carpenter
Workers comp liability varies based on the size and nature of the job the carpenter is working on. Work with hand tools and sharp objects can result in cuts, piercings and accidental amputation. Lifting injuries such as hernias, strains, sprains and back injuries may occur. Minor injuries may be frequent even when the severity exposure is controlled. When work is done on ladders and scaffolds, there is a potential for severe injury or death from falling, being struck by falling objects or adverse weather conditions. Addressing all of these risks with proper safety programs and equipment can help you reduce the frequency and severity of the claims your business has.  FOr this reason, it is extremely important to train all employees in the proper use of basic safety equipment.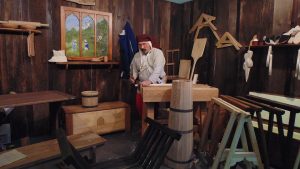 Common Carpenter Liability Classification Codes
SIC Business Insurance Codes:
1751: Carpentry Work
1521: Residential Construction
NAICS Liability Classifications:
238350: Finish Carpentry Contractors
236118: Residential Remodelers
238330: Flooring Contractors
238390: Other Building Finishing Contractors
Business ISO General Liability:
91340: Carpentry—Construction of Residential Homes
91341: Interior Carpenter
91342: Carpentry—Not Classified Elsewhere
91343: Carpentry—Shop Only
Common Workers Compensation Class Codes:
5437: Carpentry—Cabinets and Interior Trim
5403: Carpenters—Not Classified Elsewhere
2802: Carpentry—Shop Only
5432: California Class—Carpentry
5645: Carpentry—Residential Construction