15 Tips to get your Home and Office ready for Hurricane Season
Hurricane Season is upon us. August and September are typically the worst months for hurricanes in the United States, especially on the Atlantic Coast and Caribbean. 2017 was the worst year in a decade for Hurricane damage.  Here are 15 tips to prepare your family and small business for this Hurricane Season.
Plan ahead in order to be Prepared for Hurricane Season
If you wait until a hurricane forms out in the Atlantic to start thinking about what to do in the event of a natural disaster, it may be difficult to adequately prepare your family much less a small business. Preparing in advance for the day your area experiences a natural disaster is the best way to have your family and business prepared.
Create a Formal Plan
Creating a formal plan, putting it in writing, and communicating that plan to your family, friends, neighbors, and employees is the best way to deal with a natural disaster. Incorporating the key employees and advisors is a great way to get the most complete formal plan developed.
Protect Your Staff, First during Hurricane Season
If you and your staff are at work when a natural disaster strikes, it is always important to take care of the health and well-being of your staff, first and foremost. This is more a case for areas of the country that experience earthquakes or tornadoes. These natural disasters have much less warning, but hurricanes typically give the ability to know they are coming for a few days at the least. The strength and severity of the hurricane may be a surprise, but not the fact that they are on the way.  No matter what the circumstances around a hurricane, when your community is faced with one, it is important to help your staff in any way possible.
Keep Communication Open with staff
On top of thinking about your staff first when a disaster strikes, it is equally important to design and implement an effective communication plan for your staff. Have as many forms of communication open as possible. Some staff may prefer to communicate via email or text, others may want a phone call. No matter what time of communication plan you decide on for your organization, practice it ahead of time. This will help the situation run smoothly when disaster actually strikes.
Create a Contact List
In a day and age when most people depend upon their mobile device for a majority of the information they need at any given moment. When a natural disaster strikes, cell phone reception is not always reliable. If this does occur after a hurricane, having a contact list in a safe place will come in handy when you are trying to get ahold of your family, friends, neighbors, and employees.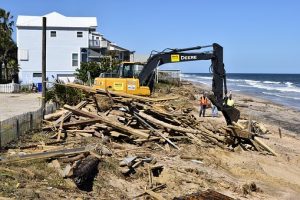 Paperwork/Collection of Information
Buying a safe is advisable in the event of a natural disaster. It is important to safely store documents like birth certificates, social security cards, passports, the deed to your house, the title to your cars, the articles of incorporation etc. It is equally important to store a list of phone numbers to organizations like the local hospital, the local police, a printed list of your employees contact info, your insurance company, etc. Do not depend upon these numbers being stored in your phone. Many times when a natural disaster strikes, there is a period of time when cell service is bad or does not work at all.
Take Before and After Photos
Taking before and after photos are especially important for your home and office.  It is important to document your key equipment and the property that your business owns. It might not be a bad idea to put these photos on file with your insurance agent and carrier. The more information you record photographically, the easier the claims process will be with your insurance company.
Designate a Safe Zone within your Home and Office
Designating a meeting location within your house or office and just outside of it is crucial to keeping track of your family and staff in the immediate aftermath of a disaster. If the place to meet is inside the building, make sure it is centralized and away from windows as much as possible.
Stockpile Emergency Supplies just for Hurricane Season
Emergency supplies may be critical in the hours and days immediately following a hurricane. These supplies should include batteries, bottled water, non-perishable food, a first aid kit, entertainment, deck of cards, maybe even a harmonica. There are infinite things that can and should be included in an emergency supply kit. Planning ahead is always the best way to create this kit and checking on it periodically will help to make sure everything is in operating order.
Purchase Backup Power
A back-up generator and solar chargers are beneficial when a disaster strikes. There will more than likely be a period of time when your family and business have to go without power. Having a back up plan for power will make your family and employees much more comfortable while dealing with the results of the natural disaster.

Conduct Ongoing Maintenance of all necessary Power Equipment
Checking on the backup power to make sure it is in proper working order is highly advisable for your home and office. Also, it is wise to store the proper fuel the backup generator. If you decide to use solar as a source for backup power, the device should be tested about once a quarter.
Have a Plan for Windows and Doors during Hurricane Season
Windows and doors are important to take care of in the event of a hurricane. Even if the storm is a tropical storm or category I storm there is more than likely going to be a lot of flying debris as a result of the storm. In some way you should board up all windows and doors of any facility you own or rent. This activity takes minimal effort on your part and can save a lot of damage if done properly.
Keep Trees Trimmed
One thing many people forget in relation to hurricane season is to have the trees, shrubs, and landscaping up to date. Even in the case of the storm not being as strong as forecasted, there will still be extremely high winds. Those winds can do enormous damage to your property when they interact with overgrown tree limbs. Soem time during the month of July or August is a good time to have all the limbs on your property trimmed adequately.
Know the Location of all Power Boxes and Water Shut Off Valves before Hurricane Season
Before a storm is in the forecast, it is important to find the location of your properties water shut-off valve, power box, and surge protector. These are not parts of your property you have to deal with very frequently. For that reason, it is important to to periodically visit this part of your facility and make sure it is in proper working order. It is especially important to do this in the Summer Months prior to hurricane season.
Clean the Gutters before Hurricane Season
In addition to tree limbs and shrubs around your property, it is equally important to clean out the gutters on all properties prior to the late summer and early fall hurricane season. These gutters will be dealing with a large amount of water moving through them during the fall. If they are not cleaned it may result in further damage to the property.