Direct Primary vs Legal Liability for Auto Repair Shops
The difference between Garage Liability Coverage and Garagekeepers Coverage is the difference between liability insurance and physical damage insurance. The first (liability insurance) covers the insured's liability for operations, autos, and the second (physical damage insurance) covers damage to customer's vehicles at auto repair shops. All garage risks need both coverages to properly insure their loss exposures.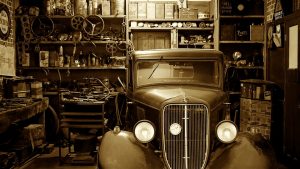 A Garage Keeper's Legal Liability policy is intended to cover damage to an auto held in their care, custody, or control while it is on consignment for sale or you are servicing, repairing, parking, or installing equipment into the vehicle. Direct Primary Coverage provides coverage even if the loss is not the insured's fault and is not legally liable. On the surface, this seems relatively easy to understand.
For Example, a customer's locked vehicle is in a fenced and locked yard. There is adequate lighting in the yard and the vehicle alarm is armed. The electronics are ripped from the vehicle and there is $25,000 in lost equipment and damage.  Although you are clearly not negligent – and not legally liable – the claim is submitted to my insurance carrier.
With Direct Primary Coverage, the customer – the owner of the vehicle – is paid no matter whose fault it was. You have a happy customer again and your insurance paid for everything. Well that is great until renewal time, when we can assume that the insurance company will raise the Garage Liability premium by a substantial amount because of the claim. That $25,000 claim typically will continue to affect your premiums for three years.
If you had purchased Legal Liability Coverage, the owner of the vehicle would have had to submit the claim to his own insurance company. Your insurance company would not pay anything on the claim – after all, it was not your fault, you were not legally responsible for the damage – thereby saving you thousands in renewal premium increases.
What is the best option to take? If you have repeat customers that represent a significant part of your business, than Direct Primary Coverage may be the best choice. However, if you do business with thousands of different people and have no significant relationship with them, then Legal Liability Coverage may better suit you.
To recap. Garagekeepers insurance refers to coverage for the cars left in your care, custody or control. Direct primary garagekeepers pays for the loss whether you are legally obligated to do so or not and legal liability garagekeepers only pays out if you are legally responsible for the loss. As a result, direct primary garagekeepers coverage is usually more expensive than legal liability garagekeepers coverage. Both of these options have their positives and negatives. Talk it over with your insurance agent and then make a decision on what you feel is the best for your business. Think long-term vs short term on the cost of the policy. Once you take cost out it will help you determine which is actually the best option.