Also referred to as "Equipment Coverage", Inland Marine Coverage is coverage specifically for property that is likely to be moved or in transit. It is a highly specialized type of property that requires a unique valuation. This can include products that you are having shipped across the country, but it can also apply to a tractor. This type of coverage is essential for many business owners and the best way to determine if you need it is to have a strong trusting relationship with your insurance agent and tell them everything about your daily operations.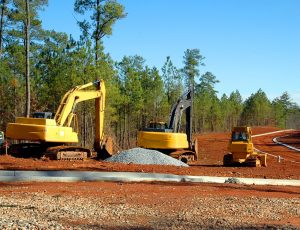 Now many business owners have an initial reaction to being offered inland marine coverage. That reaction frequently is that this coverage does not apply to my business. In many cases a business owner feels their insurance agent is just trying to tack on an extra coverage. A coverage that they do not really need and in some cases, they might be correct. Again, if you have an insurance agent that you trust they should be able to explain this coverage and help you determine if it is right for you. Any agent worth their weight will not be mentioning a coverage that has no benefit to you the business owner. You might have a difference of opinion about what the risk is, but an agent should never recommend something you do not need.
The best way for an insurance agent to stay in business is to keep you the customer happy. Keeping you happy occurs by saving you money on your policy up front, but also in making sure you are fully covered when incidents do occur. This is where you may differ in opinion about the risks your business faces and about the amount of risk you as a business owner are willing to take. It is the job of the insurance agent to make you aware of these risks and offer the products for you to protect your business to the fullest.
Now I speak about this relationship with your agent, because Inland Marine Coverage is a specialized product in the insurance industry. It is very important for some business owners to have, but many business owners do not carry it and many do not understand how going without it puts their business at risks. First take the example of a construction business who has just a general liability and workers compensation policy. This is typically the bare minimum to get your business up and running. If your construction business is operating away from your business residence than all of your tools are not covered under your either of the policies you have in place. If you were to severely damage a tractor or some other type of expensive equipment than you are responsible for any repairs that might occur. Say you have an expensive piece of machinery that you cannot operate without. If you do not have cash on hand to repair or replace that piece of equipment what is your business going to do? If you have an Inland Marine Policy in place than you can replace that piece of equipment through your insurance policy.
Again having a good relationship with your agent and speaking honestly with them about your daily operations can go a long way towards determining whether you need Inland Marine Coverage. Having open and honest discussions with your agent allow you to determine what risks you have and how much risk you are willing to take as a business owner. The amount of risk a business owner is willing to take is different for every business. Your agent works with all types of business owners on a daily basis. If you are the type of owner who is willing to take on more risk, you should make that known to your agent. At the same time you should partner with an agent you trust and listen to them when they recommend some type of coverage. If they are the type of agent you should be doing business with than they will not be recommending something that is not in your best interest.