April is Distracted Driving Awareness Month and in honor of this month My Insurance Question is dedicating a majority of our attention towards helping individuals and small businesses end distracted driving. The first step towards ending distracted driving is knowing exactly what distracted driving is. Far too many people think distracted driving begins and ends with the cellphone. While a majority of distractions to drivers do involve a mobile device, there are far more ways people can be distracted while behind the wheel.  The three main types of distractions include manual, visual, and cognitive distractions. According to the National Highway Traffic Safety Administration (NHTSA), Distracted Driving claimed the lives of 3,166 people in 2017. Because of the risk faced by individuals and small businesses related to distracted driving, here is an explanation of what exactly a manual distraction is and examples of 5 types of manual distractions.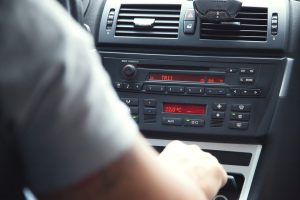 What are Manual Distractions?
According to the website DMV.org a manual distraction is anything that causes you to take one or both hands off of the wheel. Now you will find that most distractions involve more than one type of distraction. For instance, rolling down the window may include all three types of distractions: Cognitive because you are thinking about the window instead of the road, manual because you are taking your hand off the wheel to push a button to roll down the window, and visual if you look away from the road to observe the window.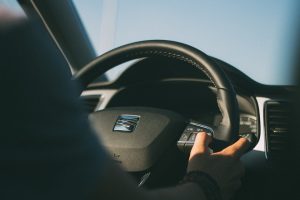 Here are 5 examples of Manual Distractions while behind the wheel. 
Eating and drinking
Today we live in an on-the-go society. Taking a look at the drive-thru line of your nearest McDonalds is all the evidence you need to know there are a lot of people out on the roads eating and drinking while behind the wheel. Eating and drinking are a manual distraction because you have to physically use your hands to do something other than have be placed on the wheel at ten and two.
Smoking
According to the Center for Disease Control (CDC), 15.5 percent of Americans 18 or older still smoke. The amount of Americans who smoke has been on a constant decline for many years. This amount of drivers still means one and a half of every ten drivers smoke. Many of them smoke when behind the wheel. The reason this is a manual distraction is because they physically have to hold the cigarette for an extended period of time. This creates an extended period of time when these drivers face a manual distraction.
Turning knobs in your car
There are more knobs and buttons in our cars now than ever before. Many new cars come with an electronic display for climate control, radio features, and even GPS capability. these are all potential manual distractions because of the fact you have to take your hand off the steering wheel in order to use any of the controls.
Tending to a child
Children are the most valued possession in any parents life. In most instances, taking care of the needs of a child come before anything a parent needs to do for themselves. When you are behind the wheel this should not be the case. No matter how bad of a tantrum your child is throwing, what they are facing is never as important as keeping them from being involved in a car accident.
Searching through your purse or wallet
Most adults carry a purse or wallet with them at all times. They include personal items like id cards, credit and debit cards as well as gum, mints, makeup and anything else we just cannot do without. These are all potential manual distractions because to use any of these items, the driver must take their hand off the wheel in order to get in to the purse or wallet. These items should be kept out of reach of the driver at all times while behind the wheel.
5

 Tips to Avoid Manual Distractions While Driving
Turn off your cellphone
Use a hands free device
Pull over to deal with a crying child
Do not eat while driving
Program your GPS Prior to driving
Turn off your cellphone
Turning off your cell phone is the single most effective way to limit distracted driving.  If you are expecting an important business call or a family member needs to get ahold of you, plan accordingly before getting behind the wheel.
Use a hands free device
If for some reason you absolutely need to be available while behind the wheel, make sure to use a hands-free device and only use the device in the event of an emergency. Even using a remote device to talk on the phone, it is important to limit the amount of time you are on the phone. Studies have shown that hands free devices are also distracting, in some cases they are just as distracting as normal cell phone use while driving.
Pull over to deal with a crying child
When you are driving with children or even with pets, make sure they are strapped into their seats properly. If they need your attention while driving, pull over before handling the situation. It is always best to deal with a tantrum when you are not behind the wheel.
Do not eat while driving
Eating while behind the wheel is the second most common reason a person gets into a car accident as a result of distracted driving.  The best way to address this threat is to simply not eat while driving.
Program your GPS Prior to driving
An additional Manual Distraction is to program a GPS Unit while on the road. Programming your GPS Unit is something that should always be done before you leave the driveway or parking lot.