Inland marine insurance is a specialized form or property insurance. It is often referred to as equipment coverage or Floaters by many business owners and insurance agents. The primary distinction between inland marine and other property insurance is the fact that inland marine is specifically for property that is likely to be moved or in transit, or it is a highly specialized type of property that required a unique valuation.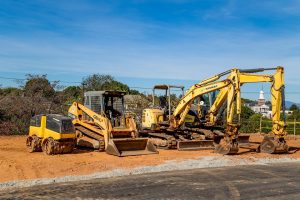 Originally, inland marine insurance policies were referred to as Floaters because they were primarily policies written to cover cargo in transit on large marine vessels. Inland marine coverage has expanded in the U.S. to include most types of property that has an element of transportation. Today, inland marine insurance covers a wide range of property and equipment.  When the property being insured does not fit within a traditional property insurance policy and is not always stationary in a reasonably fixed location it will automatically be eligible for an inland marine quote. While inland marine insurance is slightly more expensive than other property coverage, it also provides additional protection from theft or damage to the property while it is away from the primary business location.
The most common types of inland marine coverage includes construction equipment, transportation cargo, mobile medical equipment, cameras and movie equipment, musical instruments, fine arts and solar panels. Traditional property insurance is not designed to cover claims associated with these types of property. It is not uncommon for a business to purchase both property coverage and inland marine coverage together as part of a Business Owners Package (BOP).
Even though most homeowners policies provide some coverage for personal property such as fine arts, jewelry, guns, antiques, and musical instruments, these policies typically have lower insurance limits and provide less coverage in terms of causes of loss. In some instances, individuals or home based businesses find some of their property can't be covered properly by their homeowners insurance. This is another situation where an inland marine policy could provide additional coverage.
Personal inland marine coverage is also offered in rare circumstances. It is very similar to a commercial inland marine policy, but the main difference is the named insured (i.e. the person or business buying the policy). Personal inland marine polices are commonly written for individuals who want broader insurance coverage for select property, or want higher limits of coverage than a homeowners policy will provide.
Commercial inland marine insurance represents approximately 2% of all insurance premium written in the United States. This is not a large amount, but when your business needs it it is a great thing to have. Claims on this type of coverage are much more common than many business owners assume. Most business owners and insurance managers could benefit from having a long discussion about what business equipment commonly leaves the primary insured location. In most cases it is only insured if it is located at primary insured location. Once it leaves the premises it must be insured under an inland marine policy. In many cases business owners have turned in property claims on equipment they store or use offsite, only to find their business property coverage does not cover the claim.  This is frequently when business owners understand the value of their inland marine coverage. Unfortunately many times it is too late.