A while ago, I took a phone call from a client in need of help getting Errors & Omissions (E&O or professional liability) Coverage for a large contract he was working on.  However, my client was in Italy on vacation and the coverage needed to be in place before the job started in three days. To say he was in a panic would be an understatement.  I wrote his work comp insurance and our agency handled many endorsements on his policy for him.  However, it was a different agent here within our company who wrote his Liability Policy.  But he trusted me with his insurance needs, so I presented him with the following options:
I could write him a new Liability Policy with E&O Coverage included.
I could become his Agent with the current carrier, but it would take several days.
I could write a stand alone E&O Policy, but it would cost a little more since the liability would not be attached.
This actually was no problem at all. I just needed an Errors and Omissions application filled out, signed and returned to me. Thanks to technology the client had all of this information back to me by the next morning. All the way from Italy.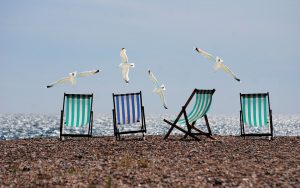 When I presented the first quote, which was the stand-alone E&O policy, my client was shocked at the price of the coverage. In the past he had only had a liability policy. I explained the bulk of his company's exposure was in the Errors and Omissions Liability and he should expect to pay more for this coverage.
The second quote was with a new carrier.  It was a Business Owners Package (BOP) with E&O as an added coverage. This was also the carrier I had his Workers' Compensation Policy with. This was a great quote and made the most sense to me. However, the client did want to wait for the quote from the carrier he currently had for his liability coverage. This is the company I had taken over as the Agent of Record (AOR). In the end both carriers had great pricing and coverage. My client chose to go with the carrier that already had written his Work Comp and offered all of the endorsements he needed for the contract he was working on.
After discussing all of the projects his company had coming up in the next year I offered him a Commercial Umbrella Policy to extend his coverages. I explained that this would help protect his company if ever a claim went beyond the limits of his policy. The client thanked me for mentioning an umbrella policy and he agreed that his business needed this coverage.
We were able to get all the documents signed, the policy bound and all of the needed certificates of insurance out to the Holder by the deadline. It all got taken care of expediently. All while my client was on vacation.